Everyone is aware that when you're on the internet, there are changes that you'll be prone to getting hacked (especially if you're famous or own digital items that are worth a lot of money *cough* my games inventory *cough*). A lot of users have been complaining about getting hacked due to poor security protocols by most sites.
Most hackers only hack into your account to gain a particular piece of information such as your emails which may contain your personal details, Spotify account as it's likely linked to your debit/credit card or even your gaming account such as platforms like Steam where they use an API tool to hack into your account and clear your mobile code authenticator.

Checking your bank account after getting hacked be like…
If anyone has read or can recall, back in July 2020, there was a series of high-profile Twitter accounts that had been hacked stating that "all bitcoin sent to the address stated will be sent back in double".
These attacks were on individuals such as Jeff Bezos, Elon Musk, Bill Gates, Kanye West and even brands such as Uber and Apple as all of them had gotten compromised in the unprecedented attack.

Image via SoyaCincau
The attack was done by a teenager based in Florida and has pled guilty of the offence. He is currently being charged with a three-year prison sentence.

How people think hackers look like:
How they actually look like:

Image via Soya Cincau
GrahamIvan Clark who is currently 18 years old had hacked into the high-profile accounts and had solicit more than USD 100,000 (~RM411,800) in Bitcoin. At the time of hacking into these accounts, he was only 17 years old and was initially arrested as a "youth offender" which avoided a jailtime of 10 years for him. Tampa Bay Timesreported that his jail sentence may also enable him to serve some time in a military-style boot camp.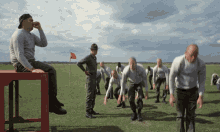 "Graham Clark needs to be held accountable for that crime, and other potential scammers out there need to see the consequences. In this case, we've been able to deliver those consequences while recognising that our goal with any child, whenever possible, is to have them learn their lesson without destroying their future," said Hillsborough State Attorney Andrew Warren.
Just to note, he was not the only one involved in the hacking of the accounts as there were two more people who have bene convicted under the same scheme. The two are Nima Fazeli from Orlando and Mason Sheppard who is from the United Kingdom.
Wow, to think that he was only 17 at the time of hacking these accounts. He's quite lucky to escape with only 3 years in prison. Imagine having to do 10 years in prison or even longer just after turning 18. You'll ruin your teenager life.
What do you think? Is 3 years of imprisonment enough for an offence like this? Let us know your thoughts.
Credits to Soya Cincau for the initial coverage.

FOMO much? Follow our Facebook and Instagram for more updates.