I don't know if this post was meant to be a light-hearted joke or if KPWKM (Kementerian Pembangunan Wanita, Keluarga Dan Masyarakat) actually believes that these are what Malaysian women should be doing...regardless, it was not well-received and Malaysian women are pissed as hell.
The caption read:
"Here are a few tips to help you stay productive and focused while working from home. We would also like to remind you to not be so preoccupied while working until your family members are not monitored, which could lead to violations of the current Movement Control Order. Happy woman, happy family."
Personally I think it is quite funny (no offence to women out there) as it the post was probably just a suggestion to spice things up at home...and even for Instagram...
Like these:
I guess one post by KPWKM that triggered women is this one that suggests "a woman must not be sarcastic towards her partner if he does not help around the house. Instead, they should assign duties to their husbands so they will know exactly what to do."
I can see how this could definitely come off as sexist...and it didn't help that another post suggested that "if a husband goes against a wife's request while carrying out tasks at home, the wife should use humorous words and copy Doraemon's tone of voice followed by giggling as opposed to nagging."
I guess that kinda imposes that a wife should "sexualize" herself in order to get her husband to contribute at home, in terms of chores and stuff.
In any case, AWAM (All Women's Action Society) took to Twitter with this post:
"Stop this sexist messaging, KPWKM and focus on domestic violence survivors who are at higher risk now!"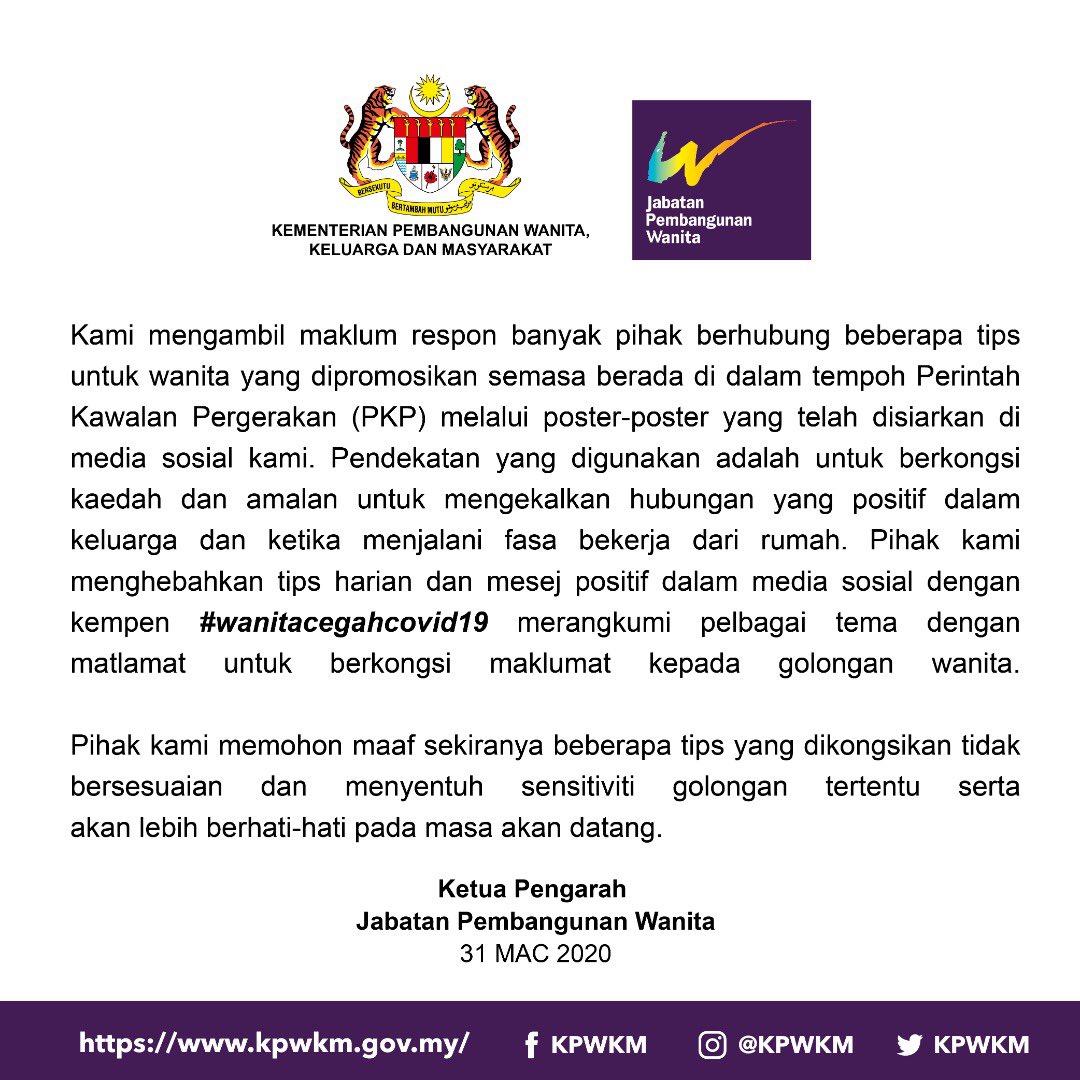 Well, no one, especially not us, is suggesting that women do any of these in order to "keep it spicy at home"...BUT...
For those of you who are into all that Insta Story-TikTok vids during the MCO and wanna try the #DoraemonWifeChallenge, why not?
Just keep it safe and #JustStayHome.