Being at the Right Place at the Right Time can be pretty eventful from time to time, like this photographer at London Underground who turned what people perceive as yuck into a work of art.
Sam Rowley captured an image of an epic Rat Battle (yes, i mean Rat...not Rap) and it turned out to win the prestigious Wildlife Photographer of the Year LUMIX People's Choice Award!
His winning entry entitled 'Station Squabble' was selected over more than 48,000 entries, and voted as the Best Image by the public.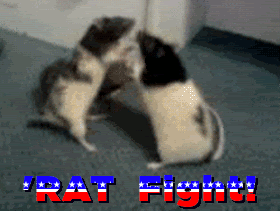 In case any of you were wondering what the two rats were fighting over, well... it's not over a female mate.
It was just over a few leftover crumbs in a subway station.
Which rat won, we will never know...but the big winner here is definitely the guy who was at the Right Place at the Right Time.
Congrats Sam Rowley!