by Mitchell W.
Disclaimer: This is a Non-Paid Article -- just shouting out on Men's New Best Hair-Friend.
Got a pretty interesting invite today to Sunway Pyramid for Men's grooming tips that you can't get anywhere else.
I attended the NIVEA MEN CRAFT STYLERS Launch today, and oh boy was I surrounded by super-groomed men with hairstyles that would put me to shame.
That handsome gentleman is Beiersdorf Singapore & Malaysia's Country Manager, Mr. Ng Hock Guan.
Every gent knows that along with a great sense of clothing fashion, the perfect hairstyle is the cherry on top to woo the ladies...(no offence to men with bald heads; Vin Diesel & Dwayne Johnson are very sought after too)
A challenge that many of us with hair would face is the dreaded Wind & Rain -- it messes up our hairstyles and we're burdened with rushing to find a washroom to dry off and re-style.
Say no more...
Today's event thought me 2 very handy things:
1. What's the Next Best Hair Product in the Market
2. Hairstyles for Any Occasion, at Any Time.
Your solution to Crafting Your Hairstyle Anytime You Want, as Often as You Want, & it'll Stay Put.
Like how I wish I didn't waste so much money on products that still needed me to run to the washroom every 20-30 mins to check on my hair -- yes, I'm super vain.
You can easily change from Mr. Work Pro to Hey-Wassup Party Bro or even Jom Bola Bro within minutes -- mind you I'm not paid to say any of this, I'm just a huge fan of NIVEA products
Recognize that popular face second from left?
That's Lex Low, owner of OTHRS Barber (among others), demonstrating everything that I've just mentioned...just so y'know I'm not bullshitting you guys.
Ok I'll even make a Review Video on it soon, so check that out when it gets released.
NIVEA was kind enough to give me a box with 3 of its Best Sellers -- so you bet imma be trying it out!
Don't worry...these are Real Men's hair products, with the smell of musculinity...the type that makes Johnny Bravo do this...
All of NIVEA MEN CRAFT STYLERS products are formulated with natural Vitamin E that strengthens hair and provides protection all day long -- meaning zero hair falls YAASSS!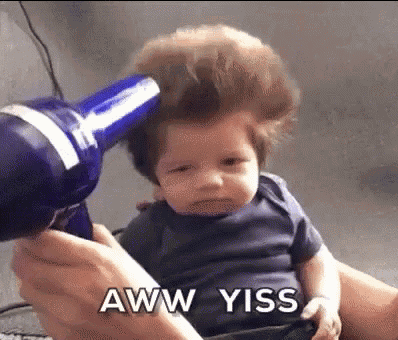 Experience the all new NIVEA MEN CRAFT STYLERS range at the CRAFT STYLERS Barbershop that will be available in Sunway Pyramid until the 10 November 2019, so go and check it out now.
What's in the NIVEA MEN CRAFT STYLERS Line?
1. Craft Stylers Reshaping Spray (RM20.90 / 200ml)
An innovative hair spray that allows easy styling of the hair by the extended drying time in order to craft and recraft your hairstyle. The alcohol-free formula is kind to the hair as it does not dry out or leave hair with a sticky or crunchy feel. Ideal for everyday styling, the Craft Stylers Reshaping Spray can be applied to dry hair and can be reworked till the ideal look is attained. Sport a playful and fun do paired with an active style that'll keep you moving with your hair looking healthy all day long.
--------------------------------------------------
2. Craft Stylers Fixating Styling Gel (RM13.50 / 150ml)
The easy to use Fixating Styling Gel leaves hair with a natural finishing gloss that does not look greasy as the formula tames the hair without leaving a sticky feeling. The Craft Stylers Fixating Styling Gel has an exceptionally strong hold on your hair without drying it out. An ideal styling gel that creates perfect shaped looks whilst strengthening hair with Vitamin E.
--------------------------------------------------
3. Craft Stylers Defining Styling Gel (RM13.50 / 150ml)
The Defining Styling Gel allows flexible styling without compromising on hold. The gel leaves hair with a natural matte effect and strong hold. Formulated with vitamin E the gel provides natural protection keeping hair strong and healthy. Add definition and shape to your hair with this effortless styling gel. Hit the streets with an urban style and go for a casual, laid back hairstyle with the easy to craft gel texture.
--------------------------------------------------
4. Craft Stylers Workable Styling Cream (RM13.90 / 150ml)
The Styling Cream is a daily essential for men that has an easily reworkable and flexible texture that allows for recrafting styles until a desirable look is achieved. The style is held in place all day with a long-lasting hold that also provides hair with a natural matte finish. Achieve a stylish and effortless look with a sleek back hairstyle with Craft Stylers Workable Styling Cream as the texture gives a natural matte finish.
--------------------------------------------------
--------------------------------------------------
So here are the tools.
Go get yourself some, Craft Your Look and Define Your Own Style!